Douglas Laing & Co's Yula 20 Years Old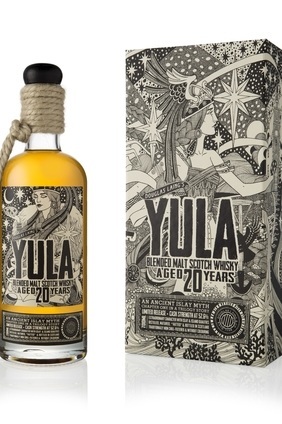 Category - Spirits, whisky, Scotch, blended, 52.6% abv
Available - From this week
Location - Global, off-trade. Main markets of the UK, France and Germany
Price - SRP of GBP115 (US$178) per 70cl bottle
Douglas Laing & Co has lined up the first of a trio of limited edition blended malt expressions. First up is Yula 20-year-old, a cask-strength blend of Islands, peated malts.
The other two expressions will launch annually.
At the start of the year, privately-owned Douglas Laing reported a marked fall in sales and profits in the 11 months to the end of March 2014, following a split of the company in 2013.
Show the press release
---
Inspired by the ancient Islay legend of a beautiful but tragic Norse goddess, Douglas Laing today announces the launch of Yula, the first of a three-part trilogy of limited edition Island Malt Scotch Whisky.
Douglas Laing's Yula is comprised of several of the Islands' most sought-after, peated malts. To be released consecutively in three limited edition batches, the first of which is bottled at 20 Years Old, Yula charts the spirits' journey and celebrates the Laing family's own proud origins on Islay.
Just 900 bottles of Yula's First Chapter are available globally.
Ancient Islay legend tells of a beautiful Norse goddess Yula, who went in search of her long lost love with an apron full of stones. The stones fell out as she travelled, forming a string of islands and leaving behind a trail of her empty quest. For Yula never did find her love, but perished instead in the treacherous seas surrounding Islay, the last jewel-shaped stone to fall from her apron. And it's here on Islay, which in old Norse means "Yula's Isle", that our tragic heroine is buried, her final resting place marked by two standing stones which can still be seen to this day.
Yula's trilogy charts the spirit's journey, not now over land and sea – but within the cask, where the magic of maturation transpires and the various elements are finally united in their own marriage.
Says Douglas Laing's Director of Whisky, Cara Laing: "This exciting trilogy of Island Malts tells a tale both in terms of the ancient legend of Yula but importantly also the spirit story. Distilled in 1995, we'll see this cask strength maritime Malt evolve with each annual release while retaining that distinct oceanic, island character. In Yula, we believe we've combined two of life's greatest pleasures - a charming tale and a great Whisky!"
Yula's First Chapter is available from specialist Whisky retailers and www.DouglasLaing.com from October 2015.
Original source: Company Release
---