Diageo's three rare Scotch malt whiskies: Port Ellen 33-year-old, Cragganmore 43-year-old and Royal Lochnagar 36-year-old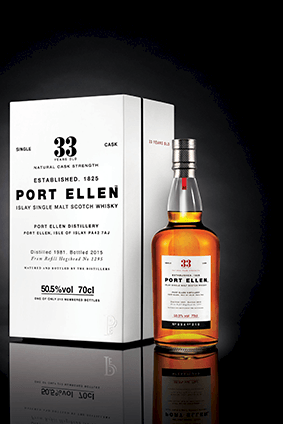 Category - whisky, Scotch, single malt, see below for abvs
Available - From now
Location - Exclusive to Travel Retail, except a small allocation of Royal Lochnagar 36-year-old
Price - Port Ellen 33-year-old, RRSP: US$7,020; Cragganmore 43-year-old, RRSP: US$3,800 and Royal Lochnagar 36-year-old RRSP: US$5,550. All 70cl.
Diageo has released three rare single malt Scotch whiskies, two of which are exclusive to Travel Retail. There are 210 bottles of Port Ellen 33-year-old (50.5% abv), while Diageo believes the Cragganmore release (47.4%abv) is the oldest bottled as a single malt. There are 474 bottles of Cragganmore - exclusive to Dubai Duty Free. Royal Lochnagar 36-year-old (57.6%abv) yielded 174 bottles.
Peter Fairbrother, global marketing director of Diageo Global Travel and Middle East, said: "These single malts are some of the rarest, most distinctive and most valuable whiskies in the world. The exclusivity of these whiskies cannot be overstated as only a few hundred bottles of each exist."
Earlier this month, Diageo unveiled a new Smirnoff range in conjunction with a global music collaboration.
---