Camus Cognac's Extra "Dark & Intense"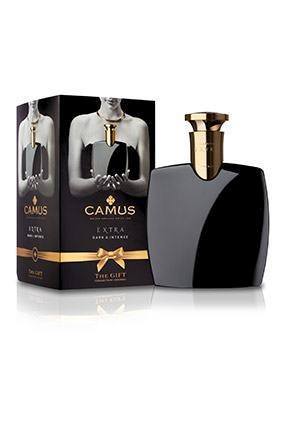 Category - Spirits, Cognac, 40% abv
Available - From next month
Location - Global Travel Retail
Price - RSP of US$480 per 70cl bottle
Camus Cognac used has a unique production process to create a new expression of its Camus Extra bottling, decanting eaux-de-vie from their casks, re-toasting the wood and then refilling them with the same spirit. The result, Camus cellarmaster Patrick Léger says, is a more intense spiciness to the aromas and a darker, more intense character than the core Camus Extra expression.
Camus Extra Dark & Intense is packaged in a black lacquered version of the Camus Extra decanter, crowned with a gold-coloured neck and cap. It will be launched at the TFWA-Asia Pacific Exhibition on 10-14 May in Singapore, booth J8.
Show the press release
---
15 years ago, CAMUS launched EXTRA Elegance - an ambitious Cognac in a contemporary design which left a permanent mark on Cognac history. Still among the leaders* in a class of which it was one of the forerunners, today EXTRA takes the limits of audacity one step further with a new "Dark and Intense" expression.
Upon its launch in the year 2000, EXTRA shattered traditional codes by presenting the Cognac in the purest of forms. From then on, the ultimate transparency of the clean-cut decanter design was all that was needed to pay due tribute to the exceptional blend it contained.
EXTRA, brought into the limelight by the many prestigious awards bestowed upon it** is revealing its dark side this year with Extra Dark & Intense.
To offer a rich and powerful aromatic experience, the House of CAMUS' Cellar Master has developed an exclusive process for this Cognac:
"First of all, we made a selection of the most appropriate eaux-de-vie. Then we decanted them from the 340-liter casks in which they had been ageing, so that the casks could be reopened in order to regenerate their full aromatic potential, by carefully toasting them over the naked flames at a controlled temperature. This delicate and meticulous operation is performed by hand, barrel by barrel, relying on the Master Cooper's expertise to determine the length of time and extent of toasting needed to obtain the best harmony between the Cognac and the oak. The casks are then refilled with the same Cognac and the blend will slowly begin to intensify its spicy aromas. Only by tasting it daily, can we decide when the Cognac has fully taken on its singular character and this finishing phase can end", says Patrick Léger, Cellar Master of the House of CAMUS.
Each cask of EXTRA "Dark & Intense" is identified by a special golden bung, recalling the bright flames which gave it new life.
TASTING NOTES
Eye: bright, tinted with mahogany and topaz.
Nose: sturdy and powerful offering crème brûlée, gingerbread and roasted macadamia nut aromas.
Palate: intense and seductive with creamy, buttery notes, robust and lingering finish characterized by subtly spicy dark chocolate notes.
Dark and intense like the Cognac inside it, the decanter is wrapped in mystery. It has the appearance of a black lacquered monolith, crowned with a gold-colored neck and cap, recalling the flames from the toasting process. This new expression, being unveiled today, is more aromatic and intense - but just as distinguished and pure - as EXTRA, so it could be only be named EXTRA "Dark & Intense".
CAMUS EXTRA "Dark & Intense" 70cl: 480 US$ (Duty-free Recommended Selling Price) Official launch at TFWA-Asia Pacific Exhibition May 10-14, 2015 in Singapore: Booth #J8.
Original source: Company Release
---