Bacardi's Dewar's Scratched Cask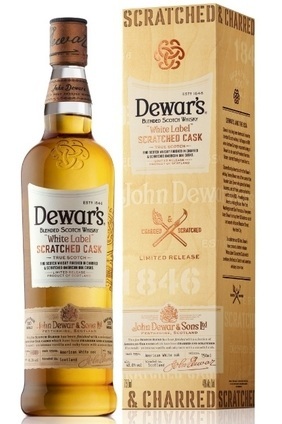 Category - Spirits, whisky, Scotch, blended, 40% abv
Available - From this month, for a limited – albeit unspecified - period
Location - US, nation-wide
Price - SRP of US$25.99 per 75cl bottle
Bacardi's Dewar's Scotch whisky brand has taken a leaf from its peers in Bourbon with its latest blended expression. Dewar's Scratched Cask gets its name from the process of scratching the barrels after charring.
The iteration does not carry an age statement.
Last year, Bacardi unveiled a raft of single malt Scotch releases from its John Dewar & Sons division.
Show the press release
---
For the first time in the brand's history, Dewar's, the world's most awarded blended Scotch whisky, borrows a tradition from its bourbon counterparts - scratching the barrels after charring - to create a unique, new liquid: Dewar's Scratched Cask. The result is surprisingly smooth with a flavorful finish. Dewar's Scratched Cask invites consumers to enjoy the prestige and tradition of Scotch with the characteristics of a bourbon.
"We are thrilled to continue to push the envelope in Scotch and create a bridge from one whiskey category to the other," said Dan Pilas, VP and Brand Managing Director, Dewar's Blended Scotch Whisky Portfolio. "Dewar's Scratched Cask is not a hybrid, but different technique that combines the best of Scotch whisky and American whiskey know-how to create a new liquid that is smooth from start to finish."
Dewar's Scratched Cask is a blend of up to 40 carefully selected single malt and single grain whiskies left to mature in oak casks at the brand's home in Scotland for a minimum of four years. At that point, instead of bottling the blend, the mature liquid is married in handcrafted American oak casks, selected by master blender Stephanie Macleod. These barrels, bourbon and virgin ok, are heavily charred and then lightly scratched at the char layer to alter the flavor of the whisky. The liquid is then left to blend and breathe for additional months, a production process called finishing.
According to Macleod, "This is a Scotch produced in a bourbon style. We always age our blended Scotch whisky, but in this case, the process of scratching the barrels creates a truly exceptional Scotch whisky with distinctive and accessible notes of sweet vanilla, toasted oak, and a hint of spice with a smooth, satisfying finish."
Dewar's Scratched Cask signature serves include "Scratch and Soda," as well as variations on classic cocktails like the Rob Roy or Old Fashioned. This limited release will be available as of May 2015 while supplies last, and will retail for $25.99 at select luxury liquor retailers nationwide.
Original source: Company Release
---