The ongoing revival of the gin category in markets like the UK and pain conceals a complex and fragmented global picture where overall consumption is still falling, according to the latest Global Gin Insights joint report from just-drinks and the IWSR.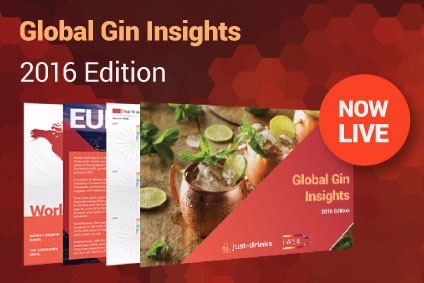 Although gin sales in 2015 rose by 2.5% to about 52m cases, the sector's global consumption is likely to fall over the five years from 2016 to 2021, the report says, thanks to continued volume declines in three key markets: the Philippines, the US and India. However, these markets are mainly focused on the lower price levels, and their losses will be largely offset by gains of more than 1m cases for premium and super-premium gins over the same timescale.
Even in the US, where sales are likely to dip below 9m cases by 2021, consumption falls will disproportionately impact standard and value gins, giving hope to those further up the value chain.
Meanwhile, the category is on fire in Spain, the UK and a number of smaller markets. Spain is predicted to break through the 5m-case barrier by 2021, while the UK will counteract essentially static volumes with sizeable value gains.
The list of smaller but highly promising markets includes Travel Retail, Germany, France, Portugal and Turkey, while the sector is also likely to see value gains in Japan, Italy, Canada and South Africa.
"Gin's current boom can be attributed to a number of factors: generational shifts in consumption habits, a new-found quest for 'authenticity', plus a revolution in the way that the spirit – and the gin and tonic especially – is presented," the report notes. "Gin provides a counterpoint to vodka as growth for the latter slows, displaying an authentic image not enjoyed by most flavoured vodkas, and a distinctive character and flavour lacking in most mainstream vodka brands."
The report warns, however, that the "mind-boggling" number of new gin brands launched over the past decade will lead to an inevitable shake-out, with only the strong expected to survive in an immensely-crowded market. "In order to survive and thrive, new gin brands will have to have one or more of the following: sizeable funds to invest; distinctive branding or flavour profile; a strong local following," the report says.
---