Product Launch - GLOBAL: Pernod Ricard's Perrier-Jouët Belle Epoque Rose 2005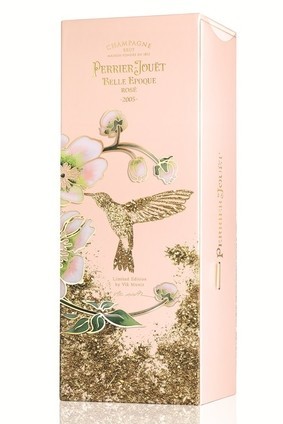 Pernod Ricard's Perrier-Jouët Belle Epoque Rose 2005
Category – Wine, Champagne
Available – From this week
Location – Globally, A UK exclusive at Searcy's Club in London, also available in Brazil, the US, Japan and Fance
Price – In UK, GBP248 (US$400) per 75cl bottle
Distribution – Pernod Ricard
Pernod Ricard has launched the 2005 vintage of its Champagne Perrier-Jouët cuvée, Belle Epoque Rosé. The expression is packaged in a limited run of bottles designed by Brazilian visual artist Vik Muniz.
The iteration comprises mainly Chardonnay, with its pink colour generated by the presence of Pinot Noir.
The UK will receive only 200 bottles.
In Pernod Ricard's latest full-year results, announced late last month, the Perrier-Jouët brand posted a 16% jump in sales.
Show the press release
---
Champagne Perrier-Jouët has unveiled the 2005 vintage of its celebrated Cuvée Belle Epoque Rosé in a limited-edition bottle designed by acclaimed Brazilian visual artist Cellar Master Hervé Deschamps personally chose the 2005 vintage of the prestige cuvée Belle Epoque Rosé, which he describes as "the most extravagant wine of the Belle Epoque Collection", for this limited edition. A generous and voluptuous cuvée, the complexity of the 2005 vintage reflects a year of contrasts crowned by a spectacular Indian summer. Chardonnay, Perrier-Jouët's nominated grape of choice, is predominant in the blend while the cuvée owes its richness and pure, salmon-pink hue to the Pinot Noir variety. After nine years ageing in the House's cellars, the result is a perfect balance between the year's character and Perrier-Jouët's stylish, floral and diamond-cut house style.
Muniz's design is a fairy-tale fusion of a brilliant golden hummingbird with the iconic Perrier-Jouët anemone motif that has adorned all bottles of Belle Époque since 1964 and was first created for the House by leading art nouveau protagonist Emile Gallé in 1902. When the lively bird admires the flower's natural elegance, the latter's white petals turn gently pink.
Original source: Company Release
---