Pernod Ricard's Midleton Very Rare Dair Ghaelach Knockrath Forest Irish whiskey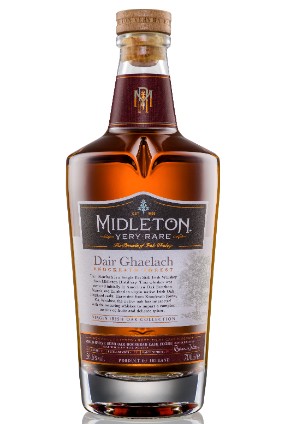 Category - Spirits, whiskey, Irish, single pot still, 56.1%-56.6% abv
Available - From this month
Location - Worldwide, available in Ireland, the UK, France, the US and China
Price - In Europe, SRP of EUR310 (US$341) per 70cl bottle
Pernod Ricard's Irish Distillers division has added a new iteration to the Dair Ghaelach series of Midleton Irish whiskey bottlings.
Midleton Very Rare Dair Ghaelach Knockrath Forest comprises liquid that has been matured in virgin casks made from oak grown in the Knockrath Forest in Ireland's County Wicklow. The third expression in the Dair Ghaelach line, which translates into English as 'Irish oak',
Dair Ghaelach Knockrath Forest, which is bottled at cask strength, is a mix of single pot still whiskeys aged between 13 and 26 years that subsequently spent two years in the Irish casks.
"Traceability and sustainability are at the heart of this whiskey and, until we started this project, Irish oak had not been used to mature whiskey for well over 100 years," said Midleton's master of maturation Kevin O'Gorman. "Today, thanks to sustainable practices, we can harvest small volumes and trace each bottle right back to the very oak tree that helped to create it."
Kicking off almost five years ago, the Dair Ghaelach series debuted with 'Grinsell's Wood', which spent time in casks made from oak grown in County Kilkenny, followed by 'Bluebell Forest' in late-2017, also hailing from Kilkenny.
What's coming up in dark spirits in 2020? - Predictions for the Year Ahead
---