Pernod Ricard's Jameson Triple Triple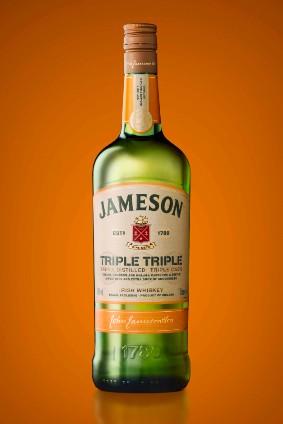 Category - Spirits, whiskey, Irish, 40% abv
Available - From this month
Location - Global Travel Retail
Price - SRP of EUR32 (US$36) per 1-litre bottle
Pernod Ricard has launched a triple-cask, triple-distilled Jameson Irish whiskey exclusively to the Travel Retail channel. Jameson Triple Triple is blended from a combination of ex-Bourbon and Sherry casks with the addition of casks that have been seasoned with fortified wine from Malaga.
Pernod said the Malaga cask notes give the whiskey a "subtle sweetness and an extra drop of smoothness".
Brendan Buckley, international marketing director at Pernod Ricard's Irish Distillers unit, said: "Jameson's approachability has been key to its success around the world, and with its extra smooth yet subtly sweet character, we expect Jameson Triple Triple to further propel the brand forward in the Global Travel Retail sphere."
Triple Triple is not the first Travel Retail-exclusive for the Jameson brand. In 2015, Pernod released the Deconstructed series - a three-strong range based on the characteristics of Jameson.
Irish Whiskey - Global Volume Trends 2013-2022
Source: GlobalData
The Irish whiskey category is in rude health globally. According to figures from GlobalData, total volumes have risen from 5.5m cases in 2013 to an estimates 7.1m cases last year - an increase of 30% over the last six years. Going forward, volumes are forecast to approach 9m cases by 2022.
Will China bite again to tarnish Chapoulaud-Floquet's Remy Cointreau legacy? - just-drinks thinks
---