Pernod Ricard has expanded its Malibu Internet of Things activation to the Netherlands, adding an interactive game for consumers.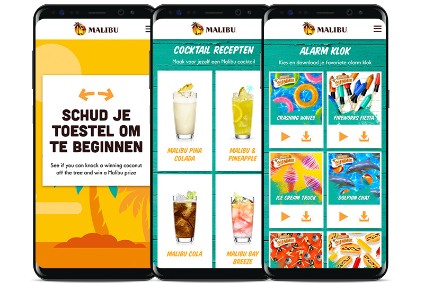 The Malibu bottles, which feature near-field communication (NFC) technology, rolled out in Amsterdam last month, Pernod's Internet of Things digital agency SharpEnd said. Each bottle carries a neck-hanger inviting consumers to tap the front of the bottle with NFC-enabled phones.
The activation is similar to the campaign that saw 45,000 NFC Malibu bottles rolled out in the UK last year, however SharpEnd said that as technology evolves new capabilities open up. The latest bottles include access to an interactive 'Shake Your Coconuts' game that offers several Malibu prizes.
SharpEnd said the UK campaign showed how Internet of Things technology can widen consumer interaction with brands. It said NFC interactions on the bottles alone outperformed typical rates for mobile engagement in the FMCG sector (2% versus 0.5%). The agency said the rates were "even more impressive given that it was driven by an incredibly early-stage technology".
The initiative forms part of Malibu's 'Because Summer' UK marketing activation, which was launched in May last year.
---