PepsiCo's SodaStream Soda Press Co Kombucha Syrup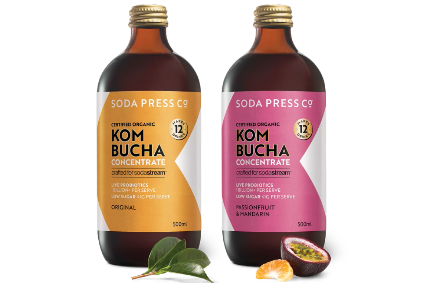 Category - Flavour syrup
Available - From this month
Location - The UK; online
Price - GBP15.98 (US$19.60) per twin-pack of 50cl bottles
PepsiCo's SodaStream unit has reunited with Australian soda syrup maker Soda Press to add a two-stong line of kombucha flavoured syrup to its UK at-home carbonation range.
Soda Press Kombucha Original and Passion Fruit & Mandarin are sold through SodaStream's official website. Both syrups are available in twin packs, enabling about 12 serves per bottle in SodaStream machines.
"With many people looking for a natural health kick right now, adding a dash of kombucha to sparkling water is a great way for consumers to enjoy a refreshing and healthy drink." said the MD of SodaStream UK, Tiago Alves.
Last year, SodaStream teamed up with Soda Press to launch a range of low-sugar offerings in the UK.
What does the return of big soft drinks brands mean for health & wellness? - Click here for a just-drinks comment
---