PepsiCo's Naked Zing citrus smoothies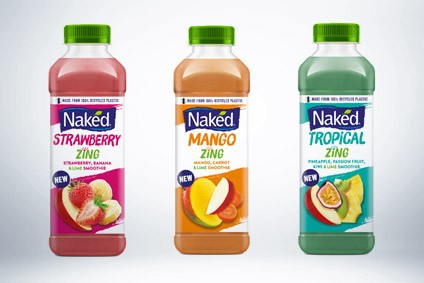 Category - Smoothies
Available - From this month
Location - The UK
Price - SRP of GBP3.29 (US$4.20) per 75cl bottle, GBP2.60 per 36cl bottle
PepsiCo has expanded its Naked juice portfolio with a range of citrus-infused smoothies in the UK.
Naked Zing comprises three flavours - Strawberry, Tropical and Mango - each with an added lime "twist", the company said today. The drinks are designed to be consumed at breakfast.
"The range has been developed in response to demand from consumers, who are seeking more from core smoothie ranges and looking for new concepts and innovative products but also simpler flavours to enjoy at breakfast-time," PepsiCo said. "Naked Zing takes inspiration from ever-popular juice bars and has been created to bring more excitement to the breakfast table."
The three flavours are available in 75cl bottles, while Naked Strawberry Zing and Naked Tropical Zing will also be in 36cl bottles.
Why COVID-19 is making soft drinks walk an advertising tightrope - Click here for a just-drinks comment
---