PepsiCo's Bubly Bounce energy drink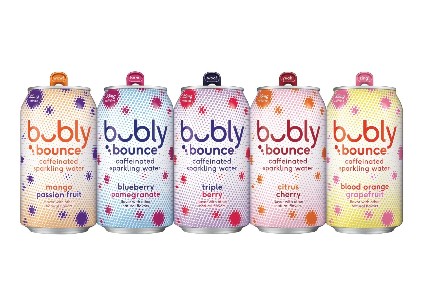 Category - Soft drinks, energy
Available - From this month
Location - The US, available in the off-premise channel
Price - SRP of US$10.99 for 18x12oz multipack in branches of Walmart
PepsiCo has launched a caffeinated version of its Bubly sparkling water brand.
Bubly Bounce contains 35mg of caffeine per 12oz (35.5cl) can and rolls out in the US grocery channel and online. A single-serve 16oz can, containing 47mg of caffeine, is also available. In comparison, the smallest brewed coffee from Starbucks contains about 130mg of caffeine.
"As more individuals seek out sparkling waters with added benefits, Bubly Bounce delivers all of the delicious flavour and hydration of the original, now with just a kick of caffeine," said Zach Harris, VP for the water portfolio at PepsiCo Beverages North America.
Five flavours are available - Mango Passion Fruit, Triple Berry, Blood Orange Grapefruit, Citrus Cherry and Blueberry Pomegranate.
The launch is the latest extension for Bubly, launched in 2018 in an attempt to capture the strong growth of sparkling flavoured water brands such as LaCroix. In October last year, PepsiCo launched Bubly Drops for the SodaStream platform in the US.
In 2019, The Coca-Cola Co launched Aha, a flavoured sparkling water range that includes a shot of added caffeine. Aha replaced Coca-Cola's Dasani sparkling water in the company's portfolio.
Why bottled water should tap into more drinking occasions - Click here for a just-drinks comment
---