PepsiCo has started using 100% recycled plastic in the packaging for its full Naked smoothies portfolio in the UK, claiming a first in the country.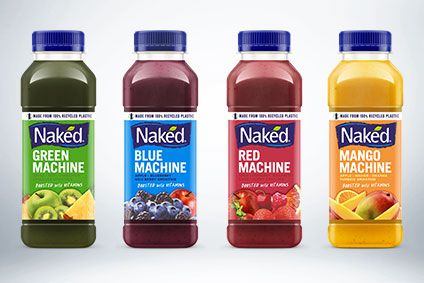 The move, announced today, makes Naked the first juice or smoothie brand in the country's off-premise channel to come in fully-recycled plastic, according to PepsiCo. Applying across the entire Naked range, the packaging also features a new label design for the brand.
The new bottles came into use this month.
"We know consumers are looking for ways to make a positive difference by supporting brands that address causes they care about and that they remain mindful of the impact of plastic usage on the environment," said Charlotte Ashburner, senior marketing manager at PepsiCo in the UK.
"We're really proud to announce that Naked … uses bottles made from 100% -recycled plastic, a material that can easily be recycled."
This latest development comes almost exactly two years after PepsiCo set a target of achieving 50% recycled plastic (rPET) in its drinks packaging across the European Union by 2030, with an interim goal of 45% by 2025.
Why COVID-19 has restored plastic's popularity in soft drinks - Click here for a just-drinks comment
---