PepsiCo has pledged to use 25% recycled content in its plastic packaging by 2025, following a similar promise by The Coca-Cola Co.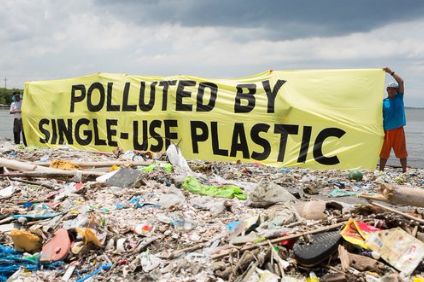 PepsiCo's announcement today sees the world's top two soft drinks producers locked into recycling pledges as the industry faces heavy scrutiny for its contribution to plastic waste. Earlier this year, Coca-Cola said it would recycle the equivalent of 100% of its packaging by 2030, while bottler Coca-Cola European Partners wants to increase the recycled plastic content of its PET bottles to 50% by 2025.
Earlier today, PepsiCo said it will work with suppliers and partners to achieve its goal and will also increase consumer education on waste. The target includes an aim specific to PET beverage bottles to achieve 33% recycled PET content by 2025.
"PepsiCo's sustainable plastics vision is to build a PepsiCo where plastics need never become waste," said the group's chief scientific officer, Mehmood Khan. "We intend to achieve that vision by reducing, recycling and reusing, and reinventing our plastic packaging - and leading global change through partnerships.
"Already, PepsiCo is one of the world's largest users of food-grade recycled PET. To further boost recycled content across all plastic packaging and drive progress towards a circular economy for plastics, it is vital to dramatically increase global waste collection and recycling rates through investment in recycling infrastructure and technology."
PepsiCo said today's pledge built on previous sustainability targets announced in 2016. Those included 2025 goals to design 100% of packaging to be recyclable, compostable or biodegradable; to increase the use of recycled materials; to reduce the carbon impact of packaging and to work to increase recycling rates.
This month, both Coca-Cola and PepsiCo were targeted by Greenpeace, which labelled them the world's worst offenders for plastic waste.
Why Deposit Return Schemes are the ultimate option for soft drinks - Comment
---