Peet's Coffee's The Black Tie and Baridi Black + Cacao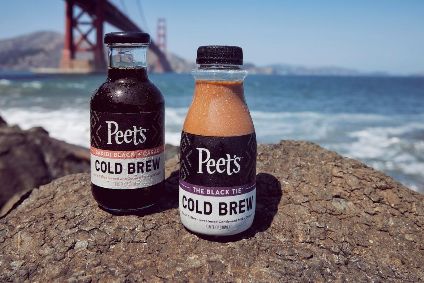 Category - Coffee, cold brew, RTD
Available - From this month
Location - US, California
Price - SRP US$3.99 per unit
California coffee company Peet's Coffee has added two new flavours to its line up of bottled, cold brew coffees, under the Coldcraft range. The Black Tie is a Vietnamese-inspired drink, featuring Baridi Black coffee, sweetened condensed milk, chicory, pure cane sugar, and a "touch of cream". Baridi Black + Cacao features Baridi Black coffee with Guittard Cacao nibs, cold brewed with a "touch of pure cane sugar".
The two flavours join an existing product line of four bottled beverages distributed by Coldcraft, the company's bottled beverages unit. The four existing flavours are Baridi Black Cold Brew, Almond Milk Cold Brew, Coffee au Lait Cold Brew and Dark Chocolate Cold Brew.
The new drinks will be available across Peet's coffee bars, as well as grocery and specialty stores and retailers.
---