Ocean Spray Cranberries' Sparkling Pink Cranberry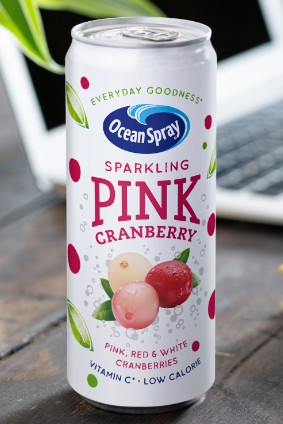 Category - Sparkling water, flavoured water
Available - From this month
Location - The UK, France
Price - In the UK, SRP of GBP1.29 (US$1.80) per 33cl can
Ocean Spray Cranberries has launched a sparkling cranberry beverage in Europe.
Ocean Spray Sparkling Pink Cranberry will be available in the UK in a 33cl can format and in France in one-litre bottles. The release is based on a non-sparkling pink cranberry juice launched in the US in 2018.
The Europe version contains added vitamin C and 80 calories per 33cl can. Speaking to just-drinks yesterday, Ocean Spray Europe MD Caroline Bethell said Sparkling Pink Cranberry has been created to meet specific consumer needs in both France and the UK. The UK single-serve format is part of an attempt to penetrate the on-the-go channel despite challenges for impulse products during the coronavirus lockdown.
"[Sparkling Pink Cranberry] was originally scheduled to launch around the time COVID started, so this launch has been pushed back because of the situation," Bethell explained. "But as things evolve, people will want to have a more refreshing light beverage to drink as they're out and about."
"A CBD launch in Europe? Nothing is off the cards" - just-drinks speaks to Ocean Spray Europe MD Caroline Bethell
---