A fear of looking bad in pub selfies is helping to drive Millennial growth in adult soft drinks, according to the co-creater of a new alcohol-replacement beverage range.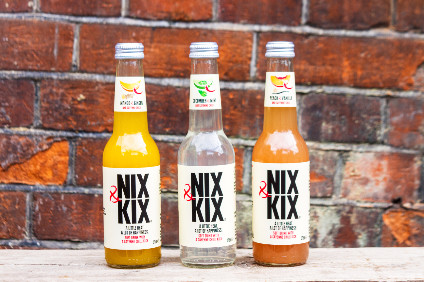 Julia Kessler, co-founder of Nix & Kix, said younger consumers don't want photos taken on nights out spoiled by drinking too much. "You want to look good," Kessler told just-drinks today. "You don't want to get drunk and find yourself on Facebook the next day."
UK-based Nix & Kix this week officially launched its range of cayenne-pepper non-sparkling soft drinks aimed at adult consumers. The range comes in three flavours - Mango & Ginger, Cucumber & Mint and Peach & Vanilla.
Kessler said on-trade sales for Nix & Kix's range have been boosted by consumers who use online dating services such as Tinder. She said an on-trade account in East London saw sales increasing on Monday and Tuesday nights because it was a popular bar for first dates.
"They don't wan to drink alcohol," Kessler said. "People don't want to get drunk on their first dates. They want to communicate."
Mintel research has suggested that 25% of younger consumers in the UK don't drink alcohol, according to Kessler. Trends away from alcohol have sparked interest in adult soft drinks and non-alcoholic beer from a wide range of beverage producers.
This month, Britvic launched WiseHead Productions, an "incubator" company to develop soft drinks for adult consumers.
Alcohol producers have also moved into the non-alcohol space. Anheuser-Busch InBev unveiled a non-alcoholic Budweiser in Canada last month while Carlsberg has been targeting the low- and no-alcohol category for a number of years now. In its business turnaround plan, released in March, health and wellness was one of four global trends Carlsberg highlighted as critical to driving future growth.
Kessler said the cayenne pepper in the new range aligns with consumer demand for less sugary options in the non-alcohol category.
"More than half of consumers who consume soft drinks in on-trade are looking for drinks that are less sweet in taste and calorie content and that is what we are providing," she said.
Nix & Kix was founded in 2014 by Kessler and Kerstin Robinson. The range is available in cases of 12 x 275ml bottles with an SRP of GBP2.50 (US$3.50).
---