New Belgium Brewing's Juicy Watermelon Lime Ale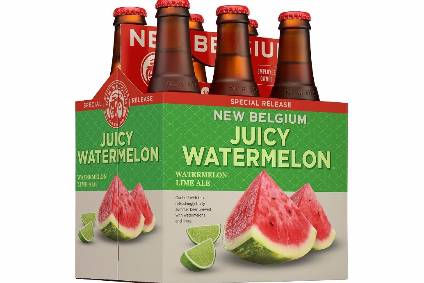 Category - Beer, 5% abv
Available - From this month, until July
Location - US
Price - TBC
New Belgium Brewing has released a watermelon and lime-flavoured seasonal beer in the US. Juicy Watermelon Lime Ale is brewed with watermelon and lime peel.
The beer, which is described as having a "bright, fruity flavour", contains nugget hops. The release has been timed to target the spring and summer months, New Belgium said.
Juicy Watermelon Lime Ale is available in 12oz bottles and cans as well as on draught.
In January, New Belgium said it will expand its US distribution footprint to all 50 states this year. The company, which makes Fat Tire Amber Ale, said at the time that it had a presence in 46 states. New Belgium plans to enter the final four - Maine, New Hampshire, Vermont and Oklahoma - during the first half of this year.
---