New Age Beverages has added to the fresh wave of CBD drinks in the wake of the revised US Farm Bill with the launch of a product made in partnership with the estate of reggae singer Bob Marley.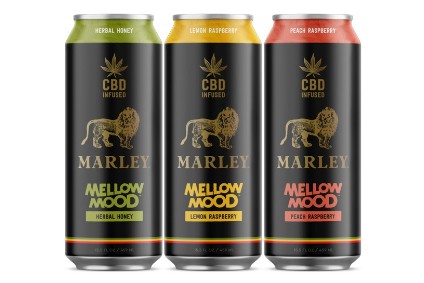 Marley+CBD will start rolling out from this month, New Age said today. The first variant will be Marley+CBD Mellow Mood in 15.5oz cans and three flavour options.
Marley+CBD drinks contain 25mg of CBD per serving and will initially be available in Colorado, Oregon, Washington and Michigan where recreational cannabis use is legal. A wider rollout is planned for later this year.
In December, US president Donald Trump signed an updated Farm Bill that loosened interstate restrictions on industrial hemp, the main source of CBD. CBD is a non-psychoactive part of the cannabis plant but its use in beverages has been a grey area for companies looking to market its reported health benefits, especially across state lines.
The changes to the Farm Bill, which is revised every four years, means commercial production of hemp is legal all over the US, as long as it contains less than 0.3% of psychoactive component THC. The plant was previously listed under the Controlled Substances Act.
Other CBD beverages to get a nation-wide launch in the US this month include Ohio-based Queen City Hemp's seltzer range and Bimble Beverages sparkling drink Bimble.
New Age said today the power of a global name like Bob Marley will help CBD beverages become more mainstream.
"Retailers and distributors realise that it will be a long road for smaller CBD brands to gain traction and brand equity," Michael Cunningham, SVP of sales for New Age, said. "Under the Marley brand platform, we are able to leverage a massive global brand with ties to healthy cannabis use, to ultimately grow a beverage brand beyond anything we have seen to-date."
Bob Marley died in 1981.
The future of cannabis in the drinks industry - Click here to download the free report from just-drinks FUTURES
---