Nestle's Perrier Energize caffeinated sparkling water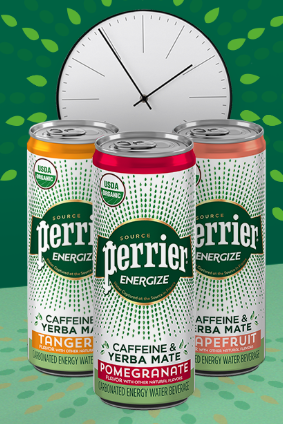 Category - Packaged water, flavoured
Available - From this month
Location - The US, available in Target outlets and online through Amazon
Price - SRP of US$1.99 per 33cl can
Nestle has added a caffeinated sparkling water to its US Perrier range.
Perrier Energize contains 99mg of caffeine from green coffee and yerba mate extracts and comes in three flavours - Grapefruit, Tangerine and Pomegranate. Each 33cl can contains 35 calories and 7g of sugar.
Nestle said the new range represents Perrier's first line of carbonated energy beverages and rolls out in the US just before daylight saving time for "the added boost you need".
Energize joins a number of new caffeinated sparkling waters in the US, although it contains more caffeine than PepsiCo's recently-launched Bubly Bounce (30mg) and The Coca-Cola Co's Aha (35mg), which came out last year. Ocean Spray Cranberries' Ocean Spray Wave, released this month, contains 50mg of caffeine.
Why energy and functional drinks should be wary of coffee's renewed attack on the caffeine occasion - Click here for a just-drinks comment
---