Molson Coors is to give away almost 500,000 'Stay-Cold' coasters as part of a new GBP6.2m (US$9.5m) UK marketing push.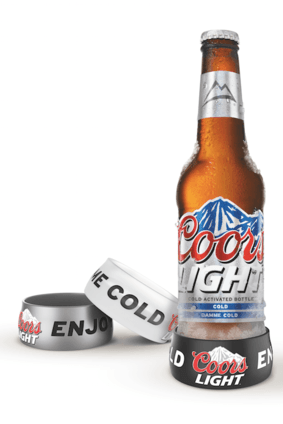 When frozen, the coasters help keep pints, bottles or cans of Coors Light cold and will be available for free in the UK on- and off-trade, Molson Coors said today. The concept will be supported by social media and above-the-line media activity.
Molson Coors' brand director portfolio, Ali Pickering, said: "Our consumers are eager to have novel and exciting experiences and we hope the frozen pint activity allows people to get closer to the ice cold refreshment of Coors Light."
The coasters tie in with the latest Coors Light TV ad featuring Jean-Claude Van Damme, which shows the action star drinking a beer so cold it freezes to the bar top.
About 450,000 'Stay-Cold' coasters in three different colours will be given away to consumers. In the on-trade, consumers buying two pints of Coors Light will receive a coaster. In the off-trade, consumers purchasing a pack of Coors Light in selected retailers will receive a free coaster.
Yesterday, Molson Coors announced that board member Geoff Molson has assumed the role of chairman - a position previously held by Pete Coors.
---