Molson Coors has launched new packaging for Miller Lite in the US as part of a collaboration with Facebook that offers consumers in the country free beer to go offline.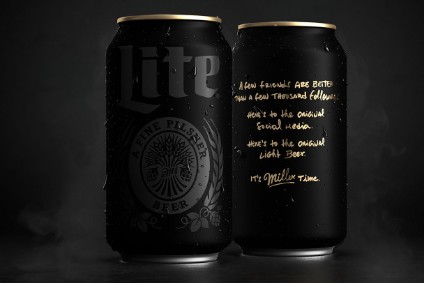 The matt black cans, an extension of a Miller Lite campaign urging people to put down their smartphones and engage with each other, will roll out in limited numbers to bars across the US, Molson Coors said today. The launch follows a recent ad for Miller Lite that positions the light lager as the "original social media".
To win one of the cans in selected bars across the country, consumers scan a QR code that triggers a 30-minute countdown that can be synched among friends' phones. Groups that collectively go offline for at least 30 minutes are then eligible to receive a Miller Lite 'Offline Can'.
Molson Coors said the "new-to-market" technology was created in partnership with social media company Facebook.
Two new ads will also launch this month, building on the success of the ad that sparked the offline campaign. This initial ad has racked up almost 175,000 views in two months on the official Miller Lite YouTube channel. The company also said the activation has amassed around 750m social media impressions. As part of the campaign, the Miller Lite brand quit social media and offered consumers who unfollowed the brand on social media a free or discounted Miller Lite.
Molson Coors said the campaign has had a "positive impact" on Miller Lite sales.
The beer category in 2019 - just-drinks' Review of the Year
---