Molson Coors' Steel Reserve Alloy Series Spiked Strawberry Burst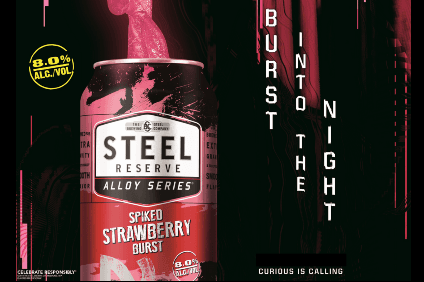 Category - Malt beverage, 8% abv
Available - From November
Location - The US
Price - Not specified
Molson Coors is to launch a strawberry flavoured variant in its Steel Reserve Alloy Series range.
Spiked Strawberry Burst, the seventh flavour in the range, is a pink-coloured malt beverage. The iteration targets Millennial consumers looking for bold flavours, Molson Coors said.
Citing Nielsen data, Molson Coors said the Steel Reserve brand is up high single digits this year and has grown volumes every year since its 2014 release, fueled by the release of new flavours.
"Our flavours are what carry us," said Alex Pascutoi, associate marketing manager for the Steel Reserve Alloy series. "And once we get a new flavour out to our consumers, they buy it and they come back."
Last month, the US unit of Molson Coors, Miller Coors, lined up an iced-coffee variant of its Blue Moon beer.
Food for thought? Nutritional drinks enter the wellness zone - Click here for a comment
---