Molson Coors' Blue Moon Iced Coffee Blonde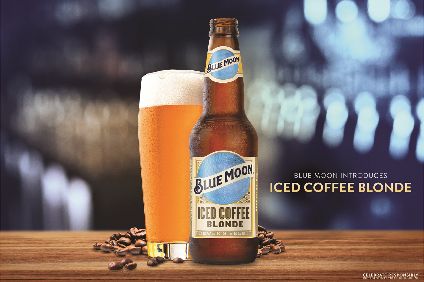 Category - Beer, coffee flavoured, 5.4% abv
Available - From this Autumn
Location - The US
Price - TBC
The US unit of Molson Coors, Miller Coors, has lined up an iced-coffee variant of its Blue Moon beer.
Iced Coffee Blonde targets growing trends for coffee and coffee-flavoured beverages. It is also part MillerCoors efforts to showcase beers that have performed well at the Blue Moon Denver brewery and taproom, the unit said yesterday.
The 5.4%-abv Iced Coffee Blonde rolls out at the same time as another MillerCoors coffee innovation. The brewer announced this month it is to test an alcoholic cold brew coffee in three US markets in partnership with La Colombe Coffee Roasters.
In the past few months, MillerCoors has boosted its innovation pipeline substantially. Last week, the brewery set a US launch for the non-alcoholic Coors Edge, which was released in Canada last year. In addition, MillerCoors relaunched its Miller64 as an "extra light beer" with a look designed to appeal to health-conscious drinkers seeking lower-calorie options.
In February, MillerCoors announced a line of alcoholic seltzers called Henry's Hard Sparkling Water. A few months later, it released the Cape Line range of sparkling RTD cocktails. Both target the growing US hard seltzer market.
How personal DNA testing will shape the future of drinking - Consumer Trends
---