Molson Coors Beverage Co's Sharp's Doom Bar Zero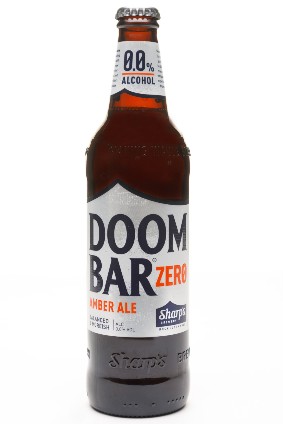 Category - Non-alcoholic beer
Available - From this month
Location - The UK, available in the off-premise channel
Price - SRP of GBP1.50 (US$2) per 50cl bottle
Molson Coors Beverage Co's Cornish brewery, Sharp's, has launched a non-alcoholic version of its flagship Doom Bar ale.
Doom Bar Zero has rolled out recently to supermarkets across the UK. The 0.0%-abv ale is available in 50cl bottles, with listings in Waitrose, Tesco and Sainsbury's.
Sharp's said it has preferred to release a 0.0%-abv Doom Bar instead of a 0.5%-abv one, adding that it is "significantly more difficult" to brew a completely non-alcoholic ale.
James Nicholls, marketing controller at Sharp's, said: "We feel that Doom Bar Zero redefines the quality standard of the category and are proud that as a truly alcohol-free option, Doom Bar Zero can fit your lifestyle, when it suits you."
Molson Coors brews a number of non-alcoholic beers in the UK, including Cobra Zero and Bavaria 0.0%.
How are older consumers reacting to the post-lockdown world? - consumer trends
---