Molson Coors Beverage Co's Leinenkugel's Spritzen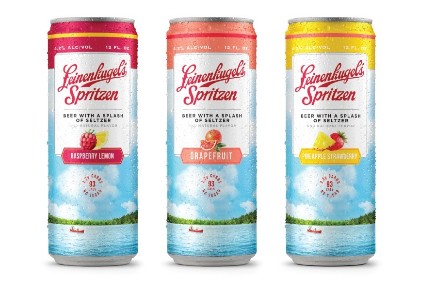 Category - Beer, hard seltzers, 4.2% abv
Available - From this month
Location - US, nation-wide
Price - TBC
Molson Coors Beverage Co has released a "beer with a splash of seltzer", under its Leinenkugel's brand. Leinenkugel's Spritzen has launched in three flavours: Grapefruit, Raspberry Lemon and Pineapple Strawberry.
The beers contain 93 calories per serve, which Molson Coors claims is "less than leading hard seltzers". Spritzen also features no sugar and no artificial ingredients.
"There are plenty of beers on the market and a variety of seltzers entering the category, but nobody is offering the best of both worlds except us," said Katie Leinenkugel, Leinenkugel's brand strategy and engagement lead, and sixth-generation family member. "Spritzen is the refreshing intersection between beer's timeless taste and the modern rise of seltzers."
Spritzen will be available in three different packs nationwide: a 12-pack featuring all three flavors, a 6-pack featuring Raspberry Lemon and Pineapple Strawberry, and a 6-pack featuring only Grapefruit.
The Jacob Leinenkugel Brewing Co is part of Molson Coors' Tenth and Blake craft division. Last month, Molson Coors rolled out a hard seltzer under its flagship Coors brand.
Heritage and heft won't win hard seltzer's summer showdown - comment
---