Molson Coors Beverage Co has launched a new Coors Light can in the US featuring a sunglasses design that turns blue when the beer is chilled.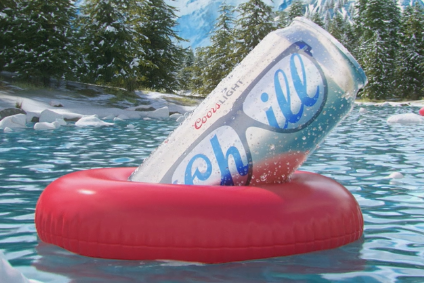 The summer packaging rolled out last month and retains the use by Coors Light of thermochromatic ink going back to 2007. The ink, which reacts to temperature change, signals to consumers that the beer is at the recommended temperature to drink.
The cans are the first time Coors Light has used its new logo - a mountain design that appears above the Coors Light script. The brand is also rolling out a TV and digital advertising campaign alongside a consumer promotion supporting the packaging this week.
"The one thing we know about Coors Light, especially in the summer, is that when we are on display, we have a higher lift than most of our competitors," said Katie Powell, associate marketing manager for Coors Light. "This packaging gives our network a great tool to execute at retail, and hopefully drive volume for the brand, our retailer and distributor partners."
Previous thermochromatic ink designs for Coors Light turned the brand's mountain logo blue. Beers including Coors Banquet, Miller Genuine Draft and Molson Canadian have also used the temperature-reactive ink on packaging.
How the post-COVID-19 beer industry will look - Click here for a just-drinks comment
---