Moet Hennessy's Glenmorangie Cadboll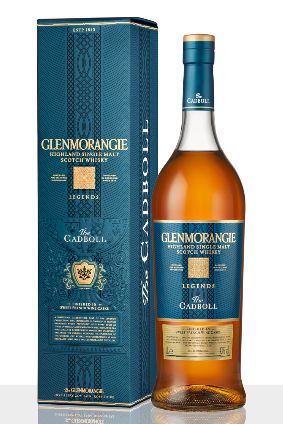 Category - Spirits, whisky, Scotch, single malt
Available - From this month
Location - Global Travel Retail exclusive
Price - In UK Travel Retail, RRP of GBP75 (US$100) per bottle
Moet Hennessy has added a permanent new member to the Travel Retail Legends Collection of its Glenmorangie single malt Scotch whisky brand. Named after a 16th-Century silver wine cup belonging to the MacLeods of Cadboll, Glenmorangie Cadboll joins Duthac and Tayne in the collection.
Also in the GTR range is the limited-edition Glenmorangie Tarlogan. At the time of its release in 2016, Moet Hennessy said that Tarlogan would be the final iteration in the Legends range.
The no-age-statement expression comprises liquid matured in ex-Bourbon casks that has then spent time in barriques previously used to store sweet French white wines made from Muscat and Sémillon grapes.
Show the press release
---
A centuries-old Highland heirloom is the inspiration for the dessert-like flavours of Glenmorangie Cadboll, the latest release in Glenmorangie's Travel Retail Legends Collection. Finished in barriques which previously held sweet French wines such as those of Muscat and Sémillon grapes, this rich and sweet single malt whisky is a fitting celebration of the Scottish artistry and French influences which shape its namesake, the Cadboll Cup.
Exclusive to Travel Retail, the Glenmorangie Legends Collection is a unique series of single malt whiskies which showcases Glenmorangie's pioneering wood expertise through innovative cask assemblages and intriguing extra-maturations. Each expression in the collection (Glenmorangie Duthac, Glenmorangie Tayne, Glenmorangie Cadboll and limited-edition Glenmorangie Tarlogan) is inspired by the legendary lands which have homed Glenmorangie's Highland Distillery since 1843.
Glenmorangie Cadboll, the collection's third permanent release, pays homage to a precious 16th century silver wine cup long treasured by the MacLeods of Cadboll, whose connections with Glenmorangie's homeland run deep. In 1699 they created Glenmorangie's Highland home, Glenmorangie House (then Cadboll House) a few miles from where the Distillery now stands.
Inspired by the heritage Glenmorangie shares with the cup, Dr Bill Lumsden, Glenmorangie's acclaimed Director of Distilling, Whisky Creation & Whisky Stocks, set out to create a whisky which would evoke its craftsmanship – and hint at the sweet wines of the 16th and 17th centuries it might once have held. Reflecting the Highland provenance of the cup, which is in the collections of National Museums Scotland, he selected a parcel of spirit which had spent its life in ex-bourbon casks in the Distillery's warehouses, not far from Glenmorangie House. Then in tribute to its French elements, he chose superior casks which formerly contained his most favoured sweet French white wines, including those of Muscat and Sémillon grapes, in which the expression would be extra-matured.
Dr Bill said: "The Cadboll Cup's secret past is fascinating. Even now, no one knows who crafted the cup – or how its marriage of Highland and continental design came to be. Glenmorangie Cadboll is our sumptuous celebration of its contrasting character. The whisky's aromas of baked bread and toasted brioche remind me of France. It is delightfully smooth and sweet on the palate, with tastes of mint humbugs, milky toffee and a long finish, full of old-fashioned confectionery. I hope the travelling connoisseur will enjoy this sweet tribute to our homeland's heritage."
UK RRP: £75
About the Glenmorangie Legends Collection:
· This unique series of single malt whiskies, exclusive to Travel Retail, showcases Glenmorangie's pioneering wood expertise through innovative cask assemblages and intriguing extra-maturations. Inspired by the heritage and legends in which Glenmorangie's Highland surroundings are steeped, each whisky in the series captures the spirit of its own unique tale, inviting discerning travellers to explore new tastes and aromas.
· The collection's first release, Glenmorangie Duthac, is a unique marriage of two whiskies. The first of those was aged in ex-bourbon barrels and finished in ex-Pedro Ximénez sherry casks, while the second summons intense spice from charred virgin oak, resulting in a beguiling paradox of flavours. The expression represents the start of a journey, documenting King James VI's pilgrimage to the shrine of St Duthac in Tain.
· The second release, Glenmorangie Tayne, extra-matured in amontillado sherry casks for a deep, sweet nuttiness, was inspired by a fabled Spanish galleon, said to have lost its way and been wrecked in the ancient waterway near Glenmorangie's Distillery.
· Then came Glenmorangie Tarlogan, a limited-edition expression which was partly matured in virgin oak casks to allow the pure nature of Glenmorangie's spirit to shine through. It returns the travelling connoisseur to the Distillery's sole water source since 1843, the Tarlogie Spring.
· Glenmorangie Cadboll, extra-matured in ex-sweet French wine casks for delectable sweetness and dessert-like flavours, and inspired by the Cadboll Cup, is the most recent expression in the collection.
Original source: Company Release
---