Former SABMiller craft brewer Meantime Brewing Co has launched its first marketing campaign since its takeover by Asahi Holdings.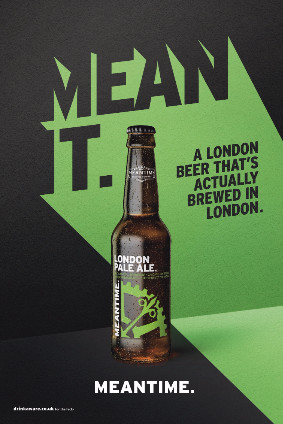 The 'Mean it' push consists of out-of-home ads highlighting Meantime's core range, complete with taglines such as "A London beer that's actually brewed in London". The brewer said the ads reflect its belief that "if you are going to brew a beer, you should brew it properly".
The month-long campaign launches across outdoor media, digital and social and lays the groundwork for more Meantime activations next year, the company said.
The Greenwich brewer has changed hands twice in the past 18 months, starting with its takeover by SABMiller in May 2015. It was sold to Asahi this year following SABMiller's acquisition by Anheuser-Busch InBev, along with Grolsch and Peroni.
To operate the brands in Europe and Canada, Asahi last month set up a new unit based in London. Asahi Europe oversees six units including Asahi UK, Asahi France, Meantime UK, Italy's Birra Peroni, Koninklijke Grolsch in the Netherlands and Grolsch Canada.
---