Mark Anthony Brands' White Claw Hard Seltzer Iced Tea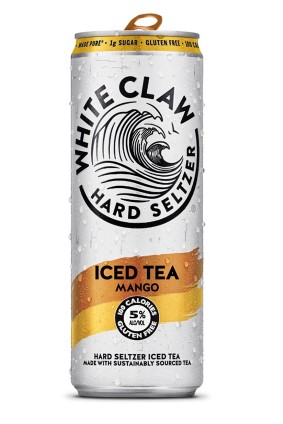 Category - Alcoholic soft drinks, 5% abv
Available - From this month
Location - The US
Price - TBC
Mark Anthony Brands has released an iced tea version of its White Claw Hard Seltzer.
The new launch is available in Lemon, Raspberry, Mango and Peach flavours. All four flavours are 100 calories per 12oz (35cl) can with an abv of 5%.
"Since its inception in 2016, White Claw has seen incredible growth, and we don't plan to stop anytime soon," said White Claw North America CMO John Shea. "You combine the leader in hard seltzer with the ever-growing tea trend, and you've got a winner."
According to Mark Anthony, the new hard seltzer is made with brewed tea. Last year, Mark Anthony significantly ramped up its hard seltzer production capacity to keep pace with fast-growing demand in the category.
Last month, The Boston Beer Co launched its own iced tea under the Truly Hard Seltzer brand. Boston Beer described the new launch as a "first-of-its-kind" innovation. Truly is the second-largest US hard seltzer brand by value and volume behind White Claw.
Does Heineken need hard seltzer? - click here for a just-drinks comment
---