Australian non-alcoholic spirits company Lyre's has kicked off its first UK brand campaign.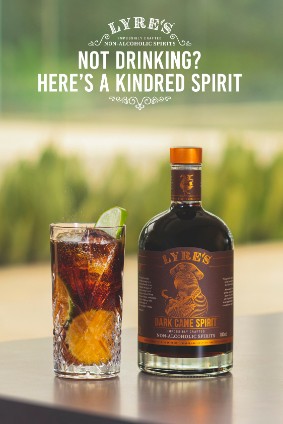 The initiative, which starts today, claims to challenge the status quo around the social conventions of alcohol consumption, with the message: 'opt out without being left out'. The campaign also shows different serves for the 13-strong Lyre's portfolio, including a Lyre's G&T or American Malt & Cola.
The activation, which will run throughout Spring, includes large format and digital out of home advertising alongside a social media and digital display campaign. The initiative will also be supported by a nationwide PR and events strategy.
Jayne O'Keeffe, VP of European marketing for Lyre's, said: "Consumer drinking habits are changing and it's not just a fad, people are increasingly concerned about their health and wellbeing and are choosing more mindful ways to live their life. Our strategy has been to develop a range of great tasting products that are accessible and empower people to feel good about drinking, whether that's someone who just wants to cut down or doesn't drink at all. UK consumers have embraced Lyre's and we're excited to be launching our first nationwide campaign just a few months after our UK debut."
What does the future hold for low- and no-alcohol? - analysis
---