Loch Lomond's Glen Scotia Campbeltown 1832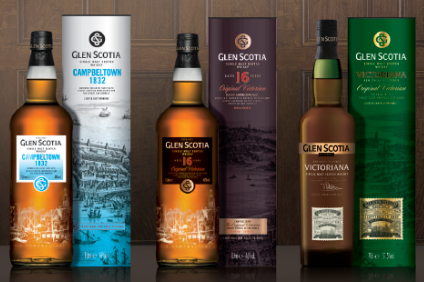 Category - Spirits, whisky, Scotch, single malt, 46% abv
Available - From early next year
Location - Global Travel Retail
Price - GBP52 (US$66) per 1-litre bottle
Loch Lomond Group is to release a Travel Retail-exclusive single malt from its Glen Scotia distillery as it launches a fresh attack on the GTR channel.
The company, which has undergone a rebranding since its takeover by a private-equity group in 2014, unveiled Campbeltown 1832 at the Tax Free World Association (TFWA) exhibition in Cannes this week. The 46% abv whisky was created to highlight the history of Campbeltown as a Scotch whisky hotspot in the 19th Century.
It will be joined in the Glen Scotia Travel Retail range by Glen Scotia 16 year old - also a TR exclusive - and Glen Scotia Victoriana.
Loch Lomond was previously owned by the Bulloch family but was sold to Exponent two years ago for a reported multi-million pound fee. Six weeks ago it hired William Grant & Son's former European Travel Retail head, André de Almeida, to lead its GTR push.
Group CEO Colin Matthews said: "Travel Retail is definitely an important channel for the Loch Lomond Group and as a result we have brought in André to ensure we have the right strategy for our brands in the channel, with a core range and an appropriate route to market in line with our future ambitions."
As well as the Glen Scotia range, Loch Lomond will offer a refreshed Loch Lomond blended Scotch whisky range comprising four expressions - Loch Lomond Single grain, Loch Lomond Signature, Loch Lomond 12 year old and Loch Lomond Inchmurrin Madeira Cask Finish.
The TFWA show concludes tomorrow. Earlier this week, TFWA head Erik Juul-Mortensen told just-drinks that potential European Union regulations on nutritional labelling could put an end to alcohol exclusives in the GTR channel.
---