La Martiniquaise-Bardinet's Glen Moray Classic Sherry Cask Finish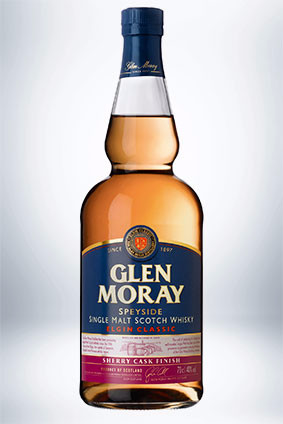 Category - Spirits, whisky, Scotch, single malt
Available - From 1 July
Location - UK, off-trade from "specialist whisky retailers" and in branches of Sainsbury's supermarkets
Price - SRP of GBP22 (US$32) per 75cl bottle
La Martiniquaise-Bardinet has lined up an extension of the 'Classic' expressions of Glen Moray single malt. Aged in American oak casks prior to a minimum of eight months in Oloroso Sherry casks, Glen Moray Classic Sherry Cask Finish, which does not carry an age statement, rolls out to the UK off-trade in just over two months' time.
The Glen Moray Classic Range comprises Classic, Port Cask Finish and Peated iterations.
David Borthwick, UK sales director for the group's Scotch whisky subsidiary, Glen Turner, said: "The steady growth of sales figures for Glen Moray continue to prove that we are offering whisky drinkers a range of single malt whiskies that are of a high quality and at a winning price."
Glen Moray Classic is the sixth biggest-selling single malt brand in the UK, according to Nielsen figures cited by the company.
The Glen Moray distillery in Speyside is in the process of being expanded. When completed, the works will double the facility's annual production capacity to 6.5m litres of pure alcohol. Additional maturation warehouses are also being built, which would up storage capacity from 90,000 to 250,000 barrels.
La Martiniquaise-Bardinet acquired Glen Moray from Moet Hennessy in 2008.
---