Krombacher's Krombacher 0.0% range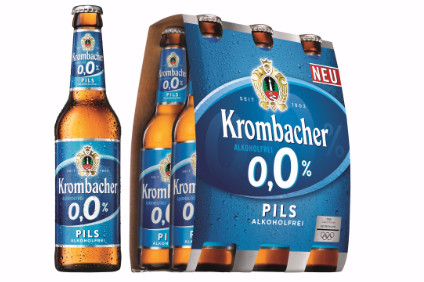 Category - Beer, alcohol-free
Available - From this month
Location - Germany
Price - TBC
German brewery Krombacher has released a range of zero-alcohol beers in its domestic market, for consumers seeking a completely alcohol-free brew. Krombacher 0.0% sits alongside Krombacher's 0.5% or lower alcohol free beer and is targetted at health-conscious consumers.
"The low alcohol content of less than 0.5% by volume in alcohol-free beers is harmless," Krombacher said. "But, there are still men and women who do not want to drink any alcohol, and therefore prefer to take a 0.0%."
The 0.0% range comes in two beer styles - Pilsner and Wheat. Krombacher said the wheat beer is the first in Germany to be completely alcohol-free.
Germany is one of the biggest consumers of zero-alcohol beer in Europe, however other countries are beginning to pursue opportunities in the category. This month, the UK division of Anheuser-Busch InBev lined up the roll-out of an alcohol-free version of German wheat beer brand Franziskaner.
---