Lion is to include full nutritional information on its beer labels in what it claims is an industry first in Australia.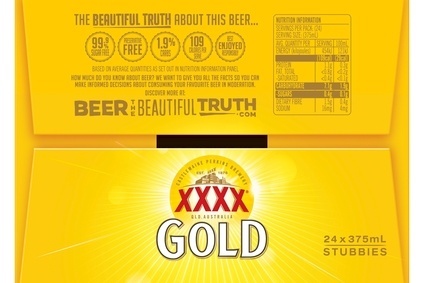 The Australasian drinks and food unit of Japan's Kirin Group said today that sugar, calorie, carbohydrate and preservative content will be carried across its beer portfolio, helping to dispel some myths about the category. "Most people think beer is full of sugar and preservatives, when in actual fact our beers are preservative-free and most are on average 99.9% sugar-free," said Matt Tapper, marketing director for Lion's Australian beer business.
The voluntary initiative will roll out from this month and initially cover Lion's biggest beer brands, including XXXX, Tooheys, Hahn and James Squire. The remaining wholly-owned Australian beers will be updated over the coming months.
According to Lion's research, Australians want to know about sugar (76%), carbohydrates (52%) and calories (47%) in their beer.
Tapper said: "Positively, seven in ten also say that if this information was available it would help them make more informed drinking choices."
In March, trade association The Brewers of Europe announced that its members have agreed to put nutritional content on both their packaging and their online presence.
---