Kilchoman Distillery's 100% Islay 10th Edition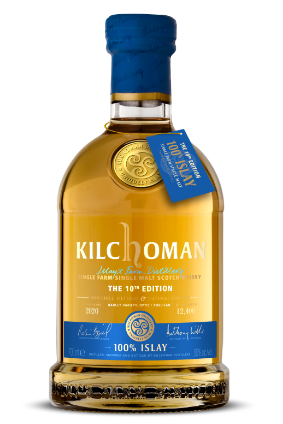 Category - Spirits, whisky, Scotch, Islay, single malt, 50% abv
Available - From this month
Location - Available worldwide
Price - In the UK, SRP of GBP71.94 (US$93) per 70cl bottle
This year's expression of Kilchoman Distillery's 100% Islay annual bottling has been unveiled this week.
Marking the series' tenth anniversary, Kilchoman 100% Islay 10th Edition has, likes its been predecessors, been produced using ingredients sourced solely from the privately-owned company's farm on the Scottish island. Limited to 12,400 bottles, the single malt was matured in a mix of 39 Bourbon casks and two Oloroso Sherry butts for nine years.
"Our 100% Islay whiskies are special, they both reflect the traditions of Scotch whisky production and examine the increasing interest in the detail of how single malt is made," said Kilchoman founder Anthony Wills. "With our 100% Islay range, we control every element of the whisky-making process ourselves, from barley variety through to individual casks selected for bottling. It means we are able to adapt our methods and inputs to maximise the character of the whisky in the glass."
Just over a year ago, Kilchoman completed an expansion programme resulting in a doubling of capacity. The distillery, which started production in late-2005, can now produce around 480,000 litres of alcohol per year.
How COVID is opening up aged spirits to a whole new world - Click here for a just-drinks comment
---