KeVita's Cleansing Probiotic Apple Cider Vinegar Tonic flavours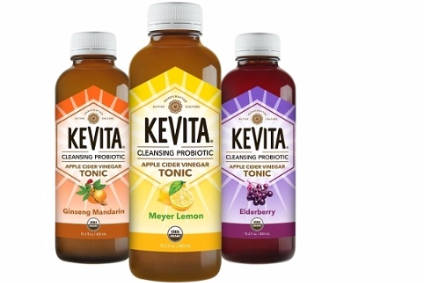 Category - Functional drinks, probiotics
Available - From this month
Location - US, nation-wide
Price - TBC
KeVita has added three new flavours to its line of Cleansing Probiotic Apple Cider Vinegar Tonics. New variants include Meyer Lemon, Ginseng Mandarin and Elderberry.
Meyer Lemon is now available at retailers across the US and Ginseng Mandarin and Elderberry will roll out this Autumn in an exclusive partnership with Whole Foods.
The products join KeVita's existing line-up of fermented functional drinks, including Sparkling Probiotic Blueberry Cherry, launched in 2014.
"With the trend of drinking vinegars on the rise, we aim to drive innovation and find more ways to help consumers live healthier lives with the best ingredients," said Bill Moses, CEO and co-founder of KeVita. "KeVita's sparkling tonics are a trifecta of functionality with cleansing apple cider vinegar, the natural digestive support of probiotics, and deliciously functional ingredients, like turmeric and ginseng, making them the ultimate functional value on the market."
The products are 25 calories per 8oz serving.
---