Fans of Avengers Endgame, which opened in cinemas last week, have spent the past few days excitedly pulling apart the blockbuster movie's many plot twists. For Scottish craft brewer Innis & Gunn, however, the most startling reveal was that they were in it.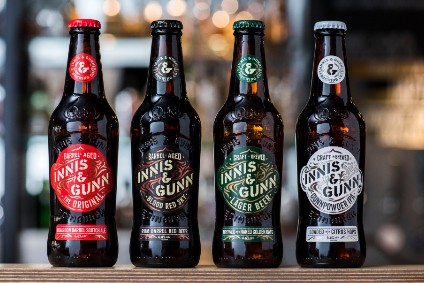 In an early scene in the movie, the latest in the successful Marvel superhero franchise, a key character drinks from a beer bottle. The label is clearly that of Edinburgh-based brewer Innis & Gunn, best known for its Scotch whisky barrel-aged ales.
"We're delighted," said Innis & Gunn founder Dougal Gunn Sharp, who found out about the beer's inclusion in the movie through Twitter. "I can't think of a brand that wouldn't want to be included in what's set to be the biggest film of 2019, and one of the highest grossing of all time."
Sharp told just-drinks the inclusion was a complete surprise - "albeit a very nice one" - and entirely free. Innis & Gunn had no contact with Disney, the movie's producer, ahead of Endgame's release.
However, the company is determined to make the most of the exposure in a film that has already broken box office records across the world.
According to movie ticket sales website BoxOfficeMojo, Endgame scored the US's biggest-ever opening weekend and will top US$600m after this weekend. In China, it is already the biggest-grossing foreign movie just one week after release. Globally, the film looks certain to become the second-biggest grossing movie of all time, and could even overtake 2009's Avatar as the biggest.
Sharp said Innis & Gunn has already jumped on the story in PR and social media activations, including a free beer giveaway for consumers at its Edinburgh and Glasgow bars.
"We've had some nice positive comments back from the reactive PR and social from consumers and the on- and off-premise too, so it feels like a real win for us already," Sharp said.
Sharp is hoping for a positive impact elsewhere, too. The brewer has looked to continue overseas expansion since selling a 27.9% stake to LVMH-backed private equity firm L Catterton in 2017. In France, Innis & Gunn is on course to treble sales by next year since doubling investment in marketing and sales and appointing a dedicated team in market. Last year, the company disclosed that about 60% of sales now come from outside the UK, led by the US, Canada, and Sweden. Meanwhile, the company has announced plans to build its own brewery in Edinburgh, a move that will take it out of C&C Group's Wellpark Brewery in Glasgow.
The supporting role in Endgame can only add to Innis & Gunn's momentum.
Sharp said: "Inclusion in something of such cultural significance without even having to ask or put our hands in our pockets doesn't come around very often, so we'll be keeping a close eye on things to see what the impact might be over the next few months."
Big beer versus craft beer - Is the fight finally over? - Click here for a just-drinks comment
---