Humm Kombucha's Raspberry Hops dry-hopped kombucha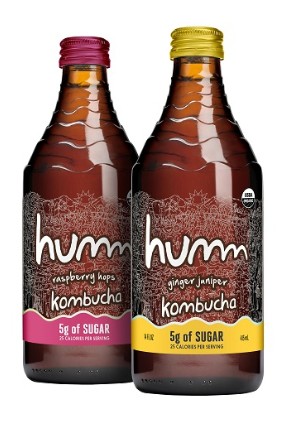 Category - Kombucha
Available - From October
Location - US, Northeast and Pacific Northwest
Price - TBC
Humm Kombucha has launched a new flavour that uses dry beer hops as a flavouring.
Humm's Raspberry Hops mixes the sweetness of raspberry with dry hops to provide a flavour that is "pulled from beloved local brews", the Oregon-based company said. It joins Humm's existing Hopped Grapefruit flavour in its portfolio.
The company has also launched a Ginger Juniper flavour that uses juniper berries from Oregon's High Desert.
"Kombucha can sometimes be a category of extremes; an aggressively vinegary taste or a juice-forward taste that makes it a little easier to enjoy with a fair amount of sugar," said Mackenzie Stabler, director of innovation at Humm Kombucha. "For these two flavours, we pulled from naturally strong ingredients and paired them with staples we love at Humm to create an extremely well-balanced flavour that people can enjoy from both a nutritional and taste perspective."
The new flavours contain 5g of sugar and 25 calories per 4oz serve. Each bottle contains 8oz.
In August, Humm said it had patented a new kombucha-making process that ensures the fermented tea drink does not turn alcoholic while sitting on shelf.
Why is kombucha gaining traction with big drinks companies? - NPD trends
---