Humble Warrior's plant-based sparkling drinks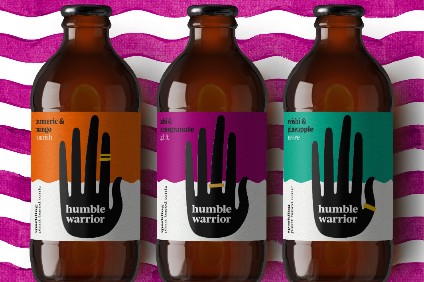 Category - Soft drinks
Available - From August
Location - The UK
Price - GBP29.90 (US$38) per case of nine 30cl bottles
UK start-up Humble Warrior has launched a range of sparkling drinks in the UK.
The Humble Warrior range is made from plant ingredients as well as fruit juice. They contain no added sugar. The three flavours in the range are Tulsi & Pomegranate, Reishi & Pineapple and Turmeric & Mango.
The range first launched across the UK in August, in Planet Organic and Selfridges stores. The company's drinks are also sold at Redemption non-alcoholic bars and restaurants.
"For too long, the adult soft drinker has been limited to a single type of drink when they're out - waters, same old fizzy drinks or fruit juices," said Humble Warrior founder, Rosh Amarasekara. "We think people deserve better. So we crafted our drinks to give people something exciting when they're out without having to compromise on health or taste."
Earlier this year, Fever-Tree rolled out a cucumber variant of its Refreshingly Light tonic water stable in the US.
Youth gone wild - How young consumers are transforming brands - analysis
---