Remy Cointreau's focus on the higher-end of the spirits category will result in a pace of growth to outpace its bigger rivals over the next five years, an analyst has forecast.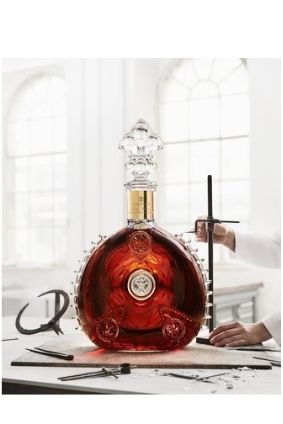 The Remy Martin Cognac and Cointreau liqueur owner is set to grow its sales by an average 7.2% a year up to 2022, propelled by brands such as Louis XIII, Jefferies analysts Edward Mundy has said. This rate puts Remy at the top of the pile of leading spirits companies covered by Jefferies, ahead of Diageo's +5.5% per year, Pernod Ricard's +5.7% and Campari's +4.3%.
Of the smaller firms included in Jefferies coverage, only LVMH (7.8% growth) and Distell (+10.4%) are expected to beat Remy. LVMH also plays in the higher-end of the spirits category with its Moet & Chandon Champagne brand and Hennessy Cognac.
Mundy said Remy's Louis XIII Cognac, which sells for about US$4,000 a bottle in its main market of China, should continue to be the company's leading driver of growth as it becomes ever more important to the top-line. According to Jefferies, the brand accelerated from driving a quarter of Remy's growth over the past ten years to accounting for half in the 2016-2017 period. Mundy said business trends for the growth of Louis XIII are even stronger now than four years ago, giving the Cognac the opportunity to improve its performance even further.
Any acceleration for Louis XIII will have a disproportionate effect on Remy's sales as the brand is expensive compared to more mainstream Cognac. According to Mundy, one bottle of Louis XIII is equivalent to selling 82 bottles of VSOP. The analyst also said that the profits from one case is equal to "more than a van" of the cheaper Cognac.
Despite the high price tag, Remy has been successful in shifting bottles of Louis XIII, especially in Asia. The Cognac commands 6% of the Chinese Cognac market by value, according to Jefferies and Euromonitor data. About 17 out of every 20 Louis XIII bottles are sold in China.
Mundy made his forecasts earlier this month in a wide-ranging client note on the spirits market, which he expects to increase sales by 4.6% a year over the next five years. Western-style spirits are expected to outpace the overall market with 5.2% growth a year, on average.
Cognac will be one of the tailwinds of that growth as its 8% annual sales value increase from 2014-17 continues over the next five years, Mundy said.
Why the spirits category needs to rethink its future positioning - Click here for a just-drinks comment
---