High Water's High Water hard seltzer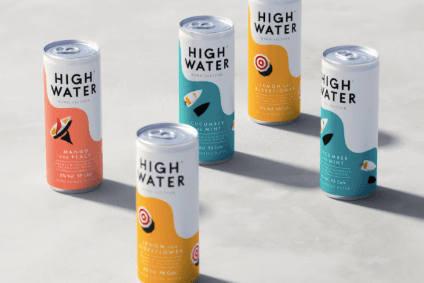 Category - Alcoholic sparkling water, 5% abv
Available - From this month
Location - The UK
Price - SRP of GBP2.50 (US$3.30) per 25cl can
A former Diageo European head of innovation has launched a range of hard seltzers in the UK under the same brand name as his start-up company, High Water.
Nick Britton, who also had a stint as marketing manager for Guinness in his time with Diageo, is behind the 100-calorie-per-can High Water brand. Made with water from England's Cotswolds region and triple-distilled vodka, the three-strong line is targetted at people with active lifestyles, according to Britton.
The range is available in three flavours - Lemon & Elderflower, Cucumber & Mint and Mango & Peach. The company will donate 1% of its profits to UK-registered marine conservation charity Just One Ocean.
"I have seen the incredible success of hard seltzers in the US, driven by the same trends we see in the UK, yet when I tried a number of the existing brands I didn't find one that was perfect for me," Britton said. "I therefore set out on a quest to make a product of the highest standard that was delicious, under 100 calories, low in sugar and with all-natural ingredients."
The rise of adaptogens - the continued evolution of health & wellness in soft drinks - Click here for a just-drinks comment
---