Heineken's Tecate Titanium 7.5% abv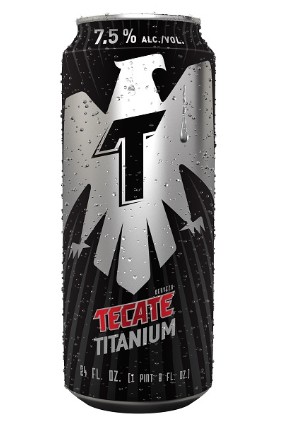 Category - Beer, 7.5% abv
Available - From February
Location - US, licensed off-premise
Price - In line with core Tecate
Heineken is to launch a higher-abv extension to its Tecate Mexican beer brand targetting US Hispanic consumers shopping in convenience stores.
The 7.5% Tecate Titanium is aimed at Hispanic consumers currently under-served in the higher-abv C-store channel. According to InfoScout figures provided by Heineken, Hispanic C-store shoppers are 13% less likely to have purchased than the average shopper and have spent 30% less on the segment.
Meanwhile, according to Nielsen, the higher-abv C-store channel is in high growth, with volumes for products 6.5%-abv and above growing at 10% in the 12 months to 14 July 2018.
"Titanium provides an opportunity to further expand the fast-growing Mexican category with a unique high ABV option," said Tecate brand director Belen Pamukoff. "We see a gap in the market where most of the high abv options are non-beers, inferior beers or hoppy craft beers."
"It was a lot harder without the power of Diageo behind me" - Ami-Lynn Bakshi, co-founder of Cafe Agave & former Diageo executive
---