Global vodka sales are set for continued declines over the next five years, but the prospects for the premium-and-above price segments are brighter, according to recent research from just-drinks and The IWSR.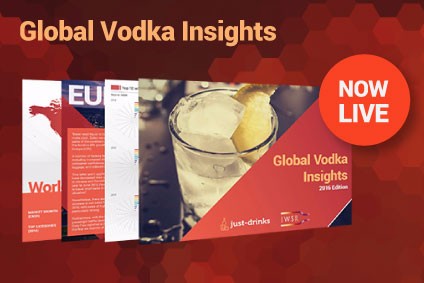 After sales fell by both volume and value in 2015, the Global Vodka Insights joint-report, published late last year, predicts that all of vodka's top four markets – Russia, the US, Ukraine and Poland – will register further declines over the next five years. Global sales in 2021 are predicted to total just over 440m cases.
While the US will be essentially flat over that timescale, Russia will haemorrhage more than 30m cases at a CAGR of nearly -2%. Poland is expected to lose 5m cases.
There are brighter prospects elsewhere, however, including the UK – Europe's fastest-growing vodka destination in 2015 – a resurgent Brazil and a raft of smaller but promising markets including Canada, Vietnam, the Global Travel Retail channel and South Africa.
Much of the category's global decline will be focused on the lower end of the market, with premium-and-above volumes poised to grow by 3.3m cases over the 2016-to-2021 period, led by the US and the UK.
"Globally speaking, vodka is pursuing a clear trend of premiumisation," the report notes. "While low-price and value sales are declining and the standard segment is flat, premium and super-premium sales are increasing."
In Central and Eastern Europe, vodka has been hit by a "perfect storm" of poor demographics, economic problems and a generational shift into other spirits categories – although it will remain the dominant "national spirit" in most of these countries for the foreseeable future.
Meanwhile, the US has come under pressure from a revival of interest in brown spirits, as well as the fall-out from "flavour fatigue", with consumers turning their backs on increasingly outlandish vodka flavours.
The overall trend for the category in 2015 was mixed, with volume declines in 23 out of the top 50 markets, including five of the top 10. South Africa is now vodka's biggest growth market, thanks partly to trading down from brown spirits, whereas in Vietnam, increased consumption is being driven by trading up from cheap local spirits.
---