Cognac sales will continue their remarkable recent momentum, with gains set to persist in North America and China supported by a resurgence in Russia, says a new report.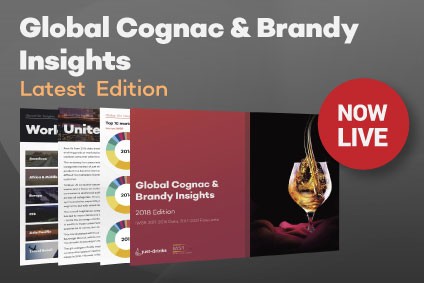 Published this week, the Global Cognac & Brandy Insights report from just-drinks and the IWSR also expects consumption of premium-and-above non-Cognac brandy to increase over the next five years, although the overall market's recent declines will persist. This part of the Cognac & brandy category is skewed by the vast brandy markets of India and the Philippines, accounting for well over 100m cases in annual sales, both of which are declining – and overshadowing more buoyant trends in South Africa and Russia.
Meanwhile, Cognac has recovered from the impact of austerity measures in China, returning to growth in the key areas of Guangdong and Fujian. Meanwhile, on the other side of the world, consumption has reached record levels in North America.
Both of these phenomena are having ripple effects: Cognac consumption is on the up across Asia and Australasia thanks to the influence of Chinese communities and visitors there, as Cognac's association with glamorous lifestyles among African-Americans in the US is increasingly driving growth in the Caribbean and Africa.
As a result, Cognac sales are expected to continue their recent growth, topping 17m cases a year by 2021, thanks to continued momentum in the US and China, supplemented by consumption gains in Russia, South Africa, Canada, Indonesia, Nigeria and India.
---