Edrington's Highland Park Dragon Legend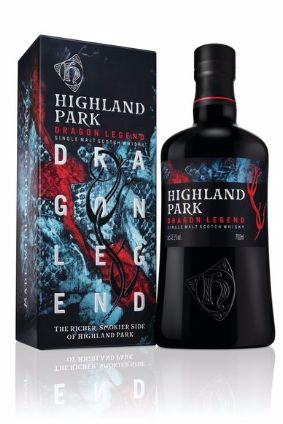 Category - Spirits, whisky, Scotch, single malt, 43.1% abv
Available - From this month
Location - Exclusively to the UK off-premise, prior to European roll-out
Price - RSP of GBP40 (US$54) per 70cl bottle
Edrington has extended its Highland Park portfolio, with a no-age-statement iteration called Dragon Legend. Rolling out exclusively in around 500 Tesco outlets across the UK, the new expression will be available to other multiple off-premise outlets in the country later this year.
The company said it "is looking to roll this out into some of their other key European markets early 2018".
The liquid has been made with malt that has been peat-dried, then aged in European and American Sherry-seasoned casks.
Dragon Legend will be positioned in line with Highland Park 12 Year Old, which was given the sub-brand name Viking Honour earlier this year.
Also this month, Edrington released details of a permanent brand extension for Highland Park in the US and Canada. Magnus is named after the founder of the Highland Park distillery on Orkney, Magnus Eunson.
Show the press release
---
Highland Park single malt Scotch whisky are delighted to announce the arrival of their new single malt called DRAGON LEGEND.
Highland Park DRAGON LEGEND has a richer, smokier flavour with an ABV of 43.1% and an RSP of £40. For the next six months it will only be available in UK supermarkets and will sit alongside their 12 Year Old Viking Honour. However, Highland Park is looking to roll this out into some of their other key European markets early 2018.
Jason R. Craig, Brand Director, Highland Park, commented: "Having recently re-packaged our existing 12 and 18 Year Old whiskies with striking Viking inspired iconography in April 2017, we were really keen to offer our consumers a new whisky to explore and enjoy.
"The result is Highland Park DRAGON LEGEND which is a step up in smoke profile from our core 12 Year Old having used a higher percentage of malt dried with our local Orkney woodless peat. This new whisky is still very much recognisable as a member of the Highland Park family with its key characteristics - from the use of both European and American sherry seasoned oak casks - of vanilla, warm spices complementing the richer aromatic peat smoke."
DRAGON LEGEND takes inspiration from the stories of the Vikings who ruled Highland Park's Orkney island home for over 600 years. For them, dragons were both feared and revered, possessing mystical powers but representing the forces of evil. According to legend, the Viking warrior Sigurd killed the evil serpent dragon Fafnir in a battle of great bravery and cunning. Licking the dragon's blood from his thumb, Sigurd was granted powerful gifts of prophecy and wisdom and became one of the greatest heroes of the ancient Nordic sagas.
From the end of August, DRAGON LEGEND will be available in over 500 Tesco stores alongside Highland Park 12 Year Old Viking Honour. It will be released in other supermarkets from autumn 2017 onwards.

The RSP of DRAGON LEGEND is £40 for a 700ml bottle.

Tasting Notes:
NATURAL CASK DRIVEN COLOUR (NO ADDITIVES)
Deep gold, clear and bright (average colour tint 15.0)
FLAVOURS
Lemon Peel – Honey - Vanilla – Warm Spices – Aromatic Peat Smoke
ABV: 43.1%
Original source: Company Release
---