Edrington's Travel Retail unit has unveiled a duty free retail space for The Macallan Scotch whisky brand in a partnership with China Duty Free Group.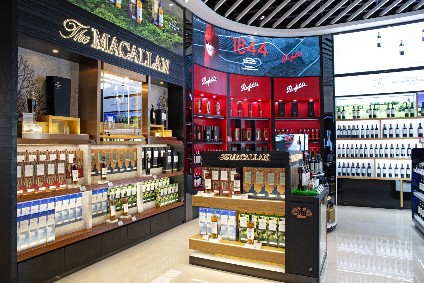 Edrington Global Travel Retail said this week that the space, in CDF Mall in Sanya, Hainan Island, is the first branded space for The Macallan on the island. According to the company, the mall is the world's largest duty free outlet.
The Macallan corner offers a range of bottlings including Travel Retail exclusives such as The Macallan Quest Collection, The Macallan Rare Cask Black. Also available are a number of 'prestige expressions', including The Macallan Oscuro, The Macallan No. 6 in Lalique and The Macallan M Decanter.
Jeremy Speirs, regional MD of Edrington Global Travel Retail, said: "The transformational impact of travelling Chinese shoppers in global duty free has been well-documented, but the latest round of measures from the Chinese government to stimulate domestic duty free shopping is a potential game-changer. Strategic branding in China duty free is an important step in our ongoing journey to engage and recruit Chinese shoppers into the brand. We are delighted and honoured to partner with CDFG to deliver this concept in the iconic CDF Mall, and look forward to strengthening our collaboration to drive further growth of our business in this key market."
Why aged spirits should be wary of opaque low- & no-alcohol trend - Click here for a just-drinks comment
---