Drynks Unlimited's Smashed Berry and Smashed Citrus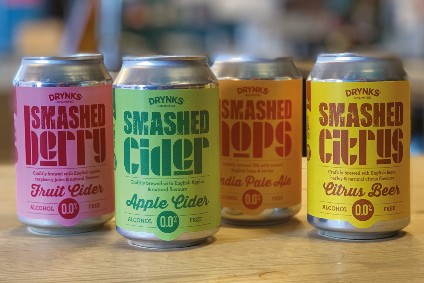 Category - No- and low-alcohol
Available - From September
Location - The UK
Price - GBP1.99 (US$2.50)
UK alcohol-free drinks producer Drynks Unlimited has added new flavours to its Smashed range as the company ramps up investment in dealcoholising technology. Smashed Berry and Smashed Citrus join Smashed Cider and Smashed Hops in the Smashed 0%-abv portfolio.
The Smashed brand was launched in October last year.
Drynks Unlimited said it is ploughing GBP1m (US$1.26m) into technology to remove the alcohol from beverages. The company uses the cool vacuum distillation (CVD) process to dealcoholise full-strength alcohol. Drynks said the technology helps retain the "personality, character and flavour of the original liquid".
Meanwhile, the Smashed range will roll out in 33cl cans as well as in bottles.
Richard Clark, MD of Drynks Unlimited, said: "Our Smashed range appeals to consumers who are choosing to reduce their alcohol intake whether that's part of a healthier, more sustainable lifestyle, or choosing to 'swap in' alcohol-free drinks on a night out."
Debunked - the four main myths of alcohol consumption - Click here for a just-drinks focus
---