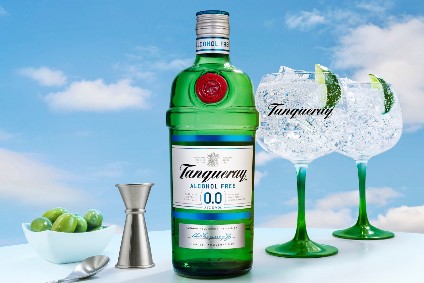 Category - Spirits, gin, non-alcoholic
Available - From March
Location - Initially in Spain, UK
Price - In the UK, SRP of GBP16 (US$22) per 70cl bottle
Diageo has added another major spirits brand to the roster of low- and no-alcohol expressions with the launch of Tanqueray 0.0%.
The new product follows Diageo's release in December of Gordon's 0.0% and signals the increasing introduction of well-known gin brand names to the category. Last month, Pernod Ricard unveiled the 20%-abv Beefeater Light.
Tanqueray 0.0% will initially roll out in the UK and Spain, two of the biggest gin markets. A wider global launch will take place throughout 2021, Diageo said today.
The zero-abv spirit drink, which contains six calories per 5cl serve, uses the same botanicals as the full-strength Tanqueray. The botanicals are heated in water and then distilled.
"We believe people shouldn't have to compromise on quality and taste when they want to enjoy a drink that has no, or low, alcohol," said Diageo's global reserve director, Pedro Mendonça. "We understand that globally there is an increasing number of people who are making more conscious decisions about what they eat and drink. So, our aim is to enhance the experience for those who wish to moderate, or for those who choose not to drink alcohol at all."
"We have to be able to have honest dialogue" - just-drinks speaks to Moet Hennessy NA diversity & inclusion head Dr Atira Charles and Hennessy US senior VP Jasmin Allen
---