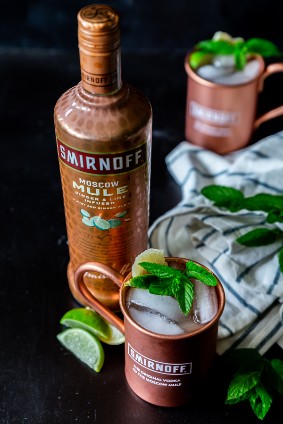 Category - Vodka-based flavoured ready-to-mix, 30% abv
Available - September 2018
Location - US retail
Price - US$14.99/750ml bottle (also in 50ml bottles)
Diageo has added another limited-edition flavoured Smirnoff vodka to its line-up: Smirnoff Moscow Mule, a ginger- and lime-infused vodka-based ready-to-mix product bottled at 30% abv.
The new variant celebrates Smirnoff's invention of the original Moscow Mule cocktail in 1941, and allows consumers to recreate the cocktail by combining Smirnoff Moscow Mule with ginger ale or ginger beer.
"With the introduction of Smirnoff Moscow Mule, our goal is to give people an easy, ready-to-mix option to create Moscow Mule cocktails at home, that is also fun and flavourful," said Jay Sethi, vice president, Smirnoff, Diageo North America.
Smirnoff Moscow Mule joins Smirnoff's other limited-time skus: Smirnoff Peppermint Twist and Smirnoff Red, White & Berry, and will be available from retailers across the US from September this year.
Earlier this year, Diageo launched a new vodka brand - American Anthem, which is produced using corn grown in Indiana and Iowa.
---